The Parkside Foundation provides a range of Community Access, Training, Personal Care and Respite Services to people with disabilities. For more specific information on any of these services please browse the list below.
Our centres are located to connect you to your community. We specialise in skill development, recreation and leisure options which build confidence and self esteem.
Assistance to live and actively connect with your community, to exercise independence and control over your own life.
Fun and creative activities for young people during holiday periods. A chance to mix with their peers and renew, maintain or develop new friendships. The energy and fun that goes into the activities offered is reflected in the building of confidence and self esteem.
Sample Program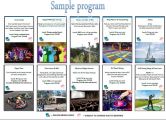 The National Disability Insurance Scheme is a way of providing support to people with permanent and significant disability, their families and carers by helping them to achieve their goals and change their lives.
ROAR (Real, Opportunities, Ability, Ready) is a cleverly designed program created to develop individual living skills through a range of education, vocational and skill based activities.
Engaging young people in fun community activities, both week nights and weekends.